Our latest new member?
Paul and Mandi from Paul Binns Quality Meats tells us their history and why Paul loves being a butcher
What is the Paul Binns History?
Paul has been a butcher all his working life. Working with his father in Rawson Market, Bradford many years ago, he taught me from a very young age about farming and butchery and I have lived and breathed it with great passion ever since.
Paul explained that he also enjoys the whole aspect of being a butcher from selecting the animals & providing customers with excellent locally sourced quality cuts, as well as supporting local farmers & ensuring his clients understand every stage from farm to fork. Their meat is sourced from Livestock markets in Yorkshire to ensure that they provide handpicked quality meat and this includes heifers under 18 months old and they also offer local free range pouktry.
Now they are in Saltaire they serve the local residents, heritage site visitors, office workers, the building trade as well as existing customers who have faithfully followed them from Bradford City Centre.
What is the shops History?
Paul began at the age of 14 working in the family butchers until his late twenties. At this time he felt it was the right time to open up his own shop. To achieve this Mandi (Pauls wife) sold her beloved sports car and with my savings "Binns Quality Meats†was born.
The first shop was located in the centre of Bradford in what was known as "Rawson Market†rapidly gaining customer loyalty. In 2002 they moved to larger premises where the business went from strength to strength and it was here we introduced "The Quality Yorkshire Pie Co by Paul Binns Quality Meatsâ€. We built a bakery unit and my wife, who loves baking went from working in IT for 20 years to baking pies in 3 months! Lucky she enjoys cooking... !
In July 2016 an opportunity arose to purchase a shop in Saltaire and after 6 months they decided relocate the whole business to Saltaire where rapid growth followed.
Saltaire is a wonderful location and we have enjoyed every moment the shop has now been refurbished throughout and we are excited for the future.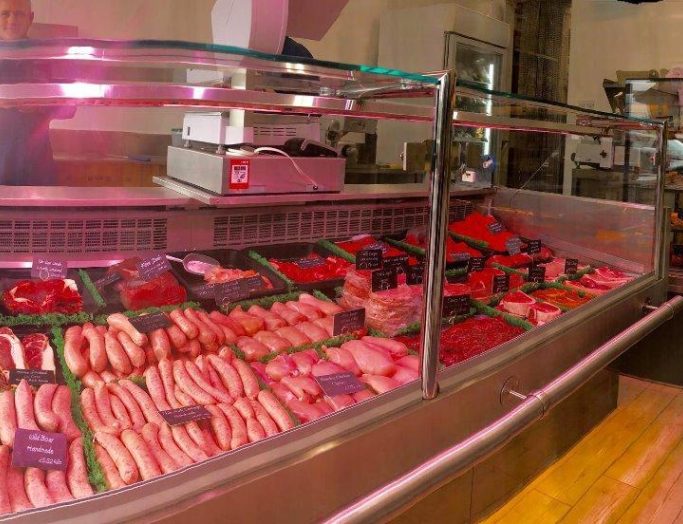 What are their speciality products?

- Traditional Pork Sausages
- Jumbo Scotch Eggs
- 21 day dry aged steaks
They also have an in house bakery which hand produces pork pies, meat pies, pasties, sausage rolls, cooked meats, plate pies, Scotch Eggs, sandwiches and sweet treats.
Who are the team?
Paul and Lee who are the main Butchers
Kieran is also a Butcher but is also great with the customers, so he is the `Front of House` man
Phillippa works with Mandi as another Chef come Baker
Tracey is their Retail Assistant
If you were hosting a dinner party?
1. Who would you invite Jeremy Clarkson
2. Which cut of meat would you serve French trimmed rib of beef
3. Where would it be held Silverstone
Website