Another amazing year for Britain's leading artisan butchers.
Twelve artisan butchers from across the UK have been crowned top of their class in the Smithfield Awards 2023, announced last week at Butchers' Hall in London. Winning butchers hailed from towns across the UK from Inverurie in Aberdeenshire to Southsea on the South Coast.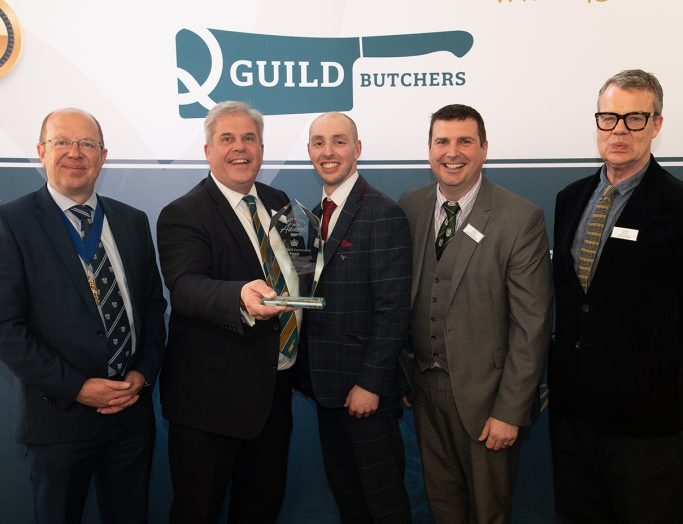 Organised by the Q Guild of Butchers, the prestigious awards which have run for more than 30 years, recognise and reward the UK's finest craft butchery products. In what is widely recognised as the meat trade's most high profile and challenging product evaluation, products across 16 categories including Traditional Pork Sausage, Best Burgers, Gluten-Free Product, Best Bacon, BBQ Product and Black Pudding went head to head in a bid to be named best in class and secure a coveted Diamond Award.
Products are awarded a Bronze, Silver or Gold award by a panel of independent industry judges, with all Gold products in each category then pitched against each other for the category champion Diamond Award.
Products were assessed by a judging panel headed up by Keith Fisher, CEO of the Institute of Meat, alongside a selection of respected industry professionals, journalists and foodies at the City of Glasgow College last month.
New for 2023 was the Coronation Year award, judged from a shortlist of the Diamond Award winners by renowned British Chef Jeremy Lee, Sheila Dillon from Radio 4's The Food Programme and Telegraph food writer Xanthe Clay. The winner and crowned the overall 'best of the best' was Derbyshire butcher, Owen Taylor & Sons, for their Steak & Ale Pie, which was described by Jeremy Lee as: "A very worthy winner. It's a cracking looking pie, beautifully coloured with delicious pastry which was crisp but not dry. It's hard to get steak right in a pie but they have managed it."
Awards were also presented to the Q Guild Young Butcher of the Year – Jordan Shaw of S. Collins & Son from Muirhead and the Masterclass in Meat Display, which was won by Buckwells of Southsea for the second year running.
Jeremy Lee, British Chef and proprietor of the renowned Soho restaurant Quo Vadis said: "The awards, presented at after a splendid lunch in the beautiful surroundings of Butchers Hall, is a testament to the hard work done by butchers the length and breadth of the British Isles. Tis a noble calling requiring great skill and knowledge. A good butcher is as vital as a good market and a good greengrocer or cheesemonger. They inform the public and encourage good cooking at home, in pubs and restaurants. It is an honour to have been asked to judge alongside Sheila Dillon and Xanthe Clay."
Winner of the Smithfield Coronation Award, Richard Taylor from Owen Taylor & Sons said: "I feel absolutely ecstatic. We've been to this awards several times, and received a few diamond awards but to come today and win two diamond awards and the Smithfield Coronation Award is an absolutely remarkable achievement. And it's not just for me, we celebrate 100 years in business this year, but for the staff, back at Leabrooks, who work very hard to ensure everything is spot on. It's testament to their hard work that we're here today."
Q Guild Young Butcher, Jordan Shaw of S. Collins & Co said: "I'm very flattered to have won this award, it's been years in the making! I've been shortlisted for the last two years so this is definitely third time lucky! I've been a butcher for six years and it means so much to me. I love developing new products and serving our customers, seeing them happy with what they're buying really warms my heart."
Gordon Wallace, Q Guild Manager said: "More than 200 products were submitted by Q Guild butchers from the length and breadth of the UK in what remains the meat trade's most prestigious and challenging product evaluation. For 2023 we've tried to evolve the awards, creating new categories which take into account the increasing cost of living, while also championing new and innovative products. The Smithfield Awards are designed to help celebrate and showcase the very best craft butchery across the UK while also helping to raise standards and drive product development."
Overall Winner – Smithfield Coronation Award
Steak & Ale Pie – Owen Taylor & Sons, Leabrooks
Full list of Diamond Award Winners:
Traditional Pork Sausage
Old Portsmouth Herb Sausage – Buckwells of Southsea
Innovative Sausage
Thai-style Pork Sausage – Coates Butchers, Coxhoe
Gourmet Burger
Pork, Stilton & Mango Burger – John Davidsons Butchers, Inverurie
Best BBQ Product
Chinese 5 Spice Ribs Rack – C Lidgate, Holland Park
From the Deli
Rare Roast Beef – Cranstons Butcher and Maker, Penrith
Artisan Home Cured Bacon
Smoked Back Bacon – Lishman's of Ilkley
Kitchen Ready Product
Beef Wellington - Barrett Brothers, Crewkerne
Speciality Game Meat Product
Guinea Fowl Kiev – C Lidgate, Holland Park
Hot Steak Pie
Steak & Ale Pie – Owen Taylor & Sons, Leabrooks
Best Innovative Hot-Eating Pie
Minted Lamb Pie – Robinsons Butchers, Tettenhall
Best Energy Efficient Hot-Eating Product
Sizzling Spicy Chicken Fajita Kit – Coates Butchers, Coxhoe
Best Traditional Pork Pie
Centenary Pie - Owen Taylor & Sons, Leabrooks
Gluten Free Product
Gluten Free Steak Sausage – Thomas Johnston Butchers, Falkirk
Best Butcher's Steak (Rib Eye)
Ribeye Steak – Barlows Butchers, Nuncangate
Best Black Pudding
The Bennachie Black Pudding – John Davidsons Butchers, Inverurie
Judges' Wild Card (all products were automatically entered for this and while not a category winner, this award was designated to "something which caught the judges' eyes, tastebuds or imagination").
Angus Cheese Burger Sausage - C Lidgate, Holland Park
Q Guild Young Butcher of the Year
Jordan Shaw - S. Collins & Son, Muirhead
Masterclass in Meat Display
Buckwells of Southsea