Britain's leading artisan butchers recognised in Smithfield Star Awards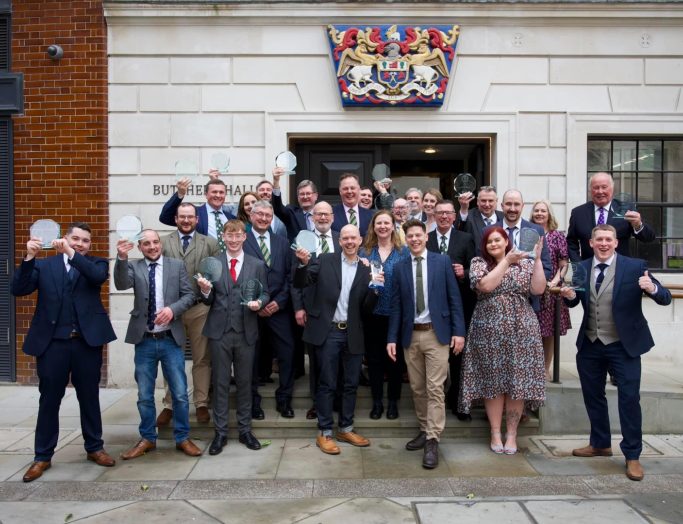 Twelve artisan butchers from across the UK have been crowned top of their class in this year`s Smithfield Star Awards, announced earlier this week at Butchers` Hall in London. Winning butchers hailed from towns across the UK from Blair Atholl in Scotland to Southsea on the South Coast.

Organised by the Q Guild of Butchers, the prestigious awards which have run for more than 30 years, recognise and reward the UK`s finest craft butchery products.

In what is widely recognised as the meat trade`s most high profile and challenging product evaluation, products across 13 categories including Traditional Pork Sausage, Best Burgers, Gluten-Free Product, Best Bacon, BBQ Product and Black Pudding went head to head in a bid to be named best in class and secure a coveted Diamond Award.

Products are evaluated using a 1, 2 and 3 star rating system with all 3 star products in each category then pitched against each for the category champion Diamond Award. A full list of Diamond Awards winners can be found below. Products were assessed by a judging panel headed up by Keith Fisher, CEO of the Institute of Meat, alongside a selection of respected industry professionals, journalists and foodies at the City of Glasgow College last month.

New for 2022 was the Platinum Jubilee award, judged from a shortlist of the Diamond Award winners by Michelin star chef and restaurateur Angela Hartnett OBE. The winner and crowned the overall "best of the best" was Leamington Spa butcher, Aubrey Allen, for their Traditional Shepherds Pie.

Awards were also presented to the Q Guild Young Butcher of the Year - Spencer Allison of Cranstons Quality Butcher & Maker in Penrith and the Q Guild Butchers Shop Promotional Meat Display, which was won by Buckwells of Southsea.

During the event Angela Hartnett was presented with a donation from the Q Guild of Butchers to charity Hospitality Action.

Gordon Wallace, Q Guild Manager said:
"This year`s entries were of a supreme quality demonstrated by a 20% increase in the number of products awarded three stars. Our Smithfield Star Awards are a fantastic endorsement of a butcher`s craft and product and really do go a long way in helping raise standards across the board and driving product development in our industry. After a two year hiatus, it was fantastic to be able to get our members together again to celebrate the very best in UK butchery heritage and skills."

Winner of the Platinum Jubilee Award Ian Meek from Aubrey Allen said:
"We`re completely overwhelmed, it`s truly humbling to have won amongst such a strong line-up of butchers. We`re incredibly proud of our Shepherds Pie and believe it won because it doesn`t have any bells or whistles, it`s simply traditional British ingredients, made in-house with Aubrey Allen products by our skilled team. We`d serve up the same Shepherds pie to our family as we would to a leading dignitary, it works just as it is for everyone. It`s one of our best-selling products and we`re incredibly proud of it."

Q Guild Young Butcher, Spencer Allison of Cranstons Quality Butcher & Maker said:
"I`m really happy to have won this very prestigious award, it`s a real privilege, especially considering the competition. I`ve been working in the industry since I was 16 and have worked my way up, developing my skills in various different areas. Moving forwards, I`m passionate about product development and also the customer side of the business."



Platinum Jubilee Award

Platinum Jubilee Award - Judged by Angela Hartnett OBE
Aubrey`s Traditional Shepherd`s Pie - Aubrey Allen, Leamington Spa


Full list of Diamond Award Winners:

Traditional Pork Sausage
Pork Link Sausage - Hugh Black & Sons, Cowdenbeath

Innovative Sausage
Pork & Apple Sausage - The House of Bruar, Blair Atholl

Best Burger
Peppercorn Steak Grill - Bonners the Butchers, Ilminster

Best BBQ Product
Black Garlic Medallions of Beef - Robert Alexander, Port Glasgow

From the Deli
Pastrami - Owen Taylor & Sons, Alfreton

Best Bacon
Best Back Bacon Dry - Cranstons Butcher and Maker, Penrith

Kitchen Ready
Aubreys Traditional Shepherds Pie - Aubrey Allen, Leamington Spa

Speciality Game Meat Product
The Black Pheasant - Buckinghams Artisan Butchery, Petersfield

Hot Steak Pie
Steak & Stilton Pie - Owen Taylor & Sons, Alfreton

Cold Pork Pie
Traditional Pork Pie - CN Wright, Ripley

Gluten Free Sausage
Cooking Chorizo, Lishmans of Ilkley

Naked Steak
Sirloin Steak - S Collins & Son, Muirhead

Black Pudding
Black Pudding - S Collins & Son, Muirhead

Young Butcher of the Year
Spencer Allison - Cranstons Butcher & Maker, Penrith

Fresh Meat Display
Buckwells of Southsea, Southsea