BRITISH CHARCUTERIE LIVE AWARDS New Dates and New Sponsors
British Charcuterie Live Awards, has announced that the annual awards supporting British Charcuterie producers will now take place in April 2021.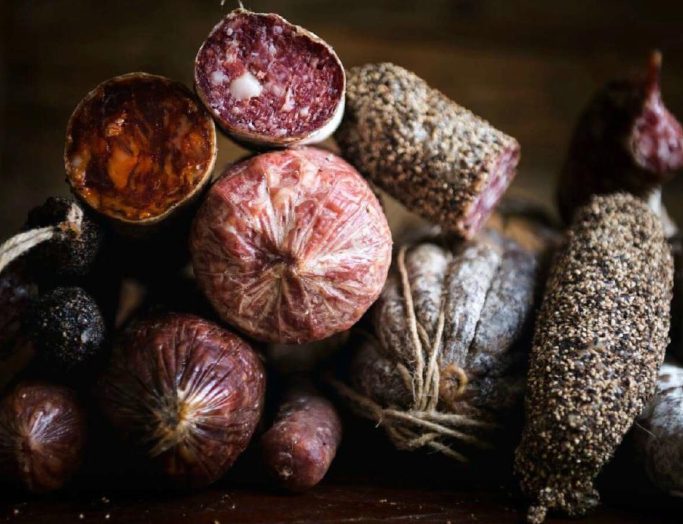 Depending on the Covid-19 pandemic the Awards, now in their third year, will be judged by a panel of expert judges from the food and farming community either at Westminster Kingsway College or online. Entries for the awards can be submitted through the British Charcuterie Live website
We are also delighted to announce Assured Food Standards better known as Red Tractor as our headline sponsor. With Red Tractor as our lead sponsor says Henrietta, this is a fantastic opportunity and a great endorsement of the importance of Charcuterie Production in the UK.
Our home-grown dried, cured and smoked meats are growing in reputation and market penetration and makers, whether farmers, butchers, chefs, or meat processors, have the perfect platform from which to promote their very best products.
Jonathan Draper, Trade & Commercial Manager Assured Food Standards is delighted to support British Charcuterie Live Awards 2021.
By partnering with British Charcuterie Live, our aim is to add value to a growing sector that has significant potential for future growth. Embedding Red Tractor at a relatively early stage in the journey for British Charcuterie can only support British Charcuterie producers in the process of expanding their reach and opportunities in the sector.
Red Tractor will be sponsoring a new award for the British Charcuterie Live Awards 2020/21. The award, titled Industry Champion, will be given to one innovative trailblazing producer who demonstrates a real passion for their craft. This producer will have a strong commercial approach, is committed to driving up production standards and sources only from a British Farm Assured supply chain and must also be either Salsa or BRC Approved or hold a Red Tractor meat processing license.
The winner will be offered a free stand within the Red Tractor Pavilion at The Speciality & Fine Food Fair 2021, to be held at Olympia 6-7 September 2021.
In recognition of the growing importance of the British Charcuterie sector, Chr. Hansen, Slow Food in the UK and BlackPudding Club have also joined the growing line-up of sponsors for the Awards 202/21.
New Classes for 2020/21 are British Snacking Charcuterie and further new Star Awards include Best Smoked Product - to be awarded to the best cured and hot or cold-smoked product and Best Black Pudding for the best black pudding entered.
Even with the uncertainty of the past yea adds Henrietta, we are delighted with the number of producers already entered and are looking forward to receiving new ones. Some are new to the sector, others well established. They all indicate the growing importance and prestige of the Awards, as well as the trust and confidence placed in the Awards by the producers and the vibrancy of the Charcuterie industry.
Past winners of the British Charcuterie Live awards include Tempus Foods, Lishman's of Ilkley, Ludlow Farm Shop and Great Glen Charcuterie.
Ends
Issued on behalf of British Charcuterie Live
For further information please contact Red Kite PR
Email or call 07932 740223
www.britishcharcuterie.live
Facebook @Britishcharcuterie.live
Instagram britishcharcuterie
Twitter @BritCharcuterie
Editors Notes:
Red Tractor are the champions of British food, farming and consumer safety. We are the UK's largest food standards scheme, our products contribute over £14 billion to the UK economy. Red Tractor membership puts British food and drink on the shelves of some of the UK's largest retailers. We provide assurance between farming, processing, packing and distribution, with 46,000 British farmers and hundreds of food manufacturers and processors working to our world-leading standards.
Our food is traceable, safe, and farmed with care because our inspectors check every step of the food journey from farm to pack. That's 60,000 checks, each year, all in one place. Which makes life simpler for everyone. 2020 is our 20th anniversary and for the last two decades, we have worked tirelessly to drive up standards in food safety, animal welfare and environmental protection.
The newly-formed relationship between Red Tractor and British Charcuterie Live provides an ideal way for Red Tractor to reach more niche & local producers.
By working with Red Tractor and potentially becoming licensed, producers will be able to join a primary supply chain offering a ready-made buying specification for the majority of British Retail and Food Service.
Annually the Red Tractor logo can be found on over £14 Billion worth of Food and Drink.
To contact Red Tractor trademarketing@redtractor.org.uk
All media enquiries to Ellis.Mcglynn@redtractor.org.uk
www: Enter the Awards