Pork Salad Mango And Lime
Ingredients
225g (8oz) Lean pork fillet
1 Lime
Black pepper
1 Mango
Mint
225g (8oz) Large pasta shapes
300g (10oz) Flageolet beans
Handful Spinach leaves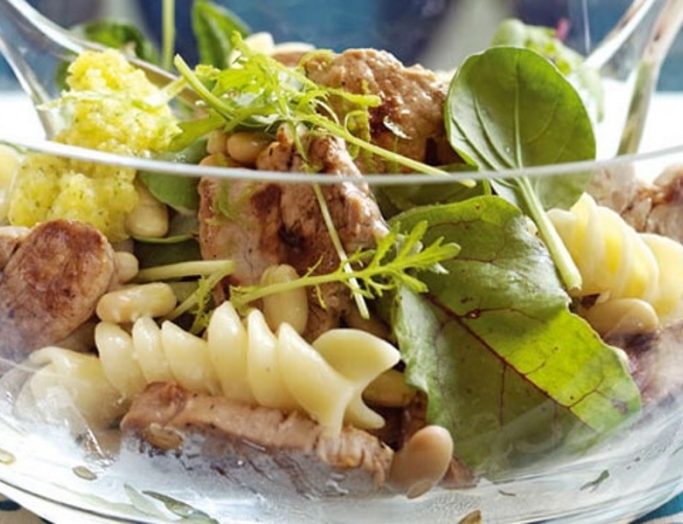 Method
Take 225g (8oz) lean, fully trimmed pork fillet and cut into thin medallions. Marinate in rind and juice of 1 lime and season well with black pepper. Cover and marinate in fridge for about 15-20 minutes.
Make Dressing: Peel 1 ripe mango and roughly slice, place in food processor and add 30ml (2tbsp) fresh mint, and juice from 1 lime. Whiz together to form a smooth dressing.
Cook 225g (8oz) large pasta shapes according to pack instructions. Heat wok or griddle pan, drain juice from pork and discard. Cook pork for 2-4 minutes each side until lightly browned.
Pile into a large bowl the pasta, pork slices, 300g (approx) can drained and washed flageolet beans and a handful of baby spinach leaves.
Serving Suggestion
Toss together and serve with a large dollop of dressing.
Image courtesy of AHDB from www.lovepork.co.uk