Roast Mini Lamb Joints with Red Pesto
An Italian inspired recipe using boneless mini lamb roasting joints spread with a home made read pesto cooked in half an hour.  A great mid-week roasting dish.
Ingredients
2 x mini lamb topside joints
Salt and freshly milled black pepper
For the Red Pesto:
1x 25-30g pack fresh basil leaves
50g/2oz pine nut kernels, lightly toasted
1 large garlic clove, peeled and finely chopped
75g/3oz sun-dried tomatoes in oil, drained and finely chopped
25-50g/1-2oz grated Parmesan cheese
150ml/¼pint extra virgin olive oil
25g/1oz fresh breadcrumbs
To Garnish:
Extra roasted pine nut kernels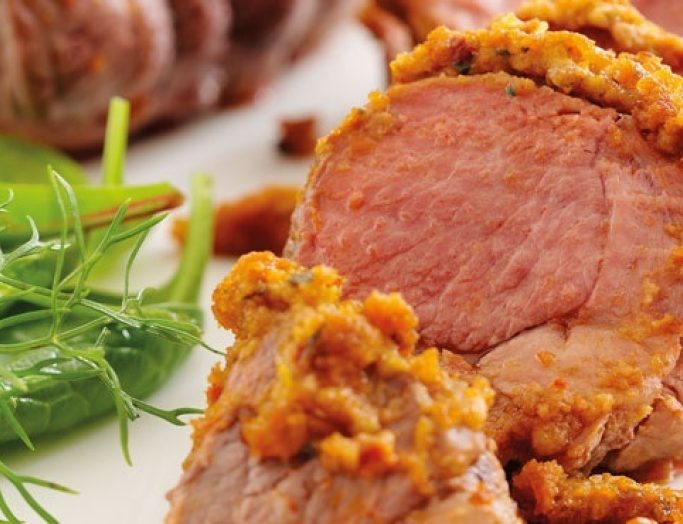 Method
Preheat the oven to Gas mark 4-5, 180-190°C, 350-375°F.
To prepare the red pesto; place all the ingredients except the breadcrumbs into a food processor or blender and whizz together to form a coarse paste. Transfer to a small bowl and set aside.
Place the lamb on a chopping board; make several slashes over the surface of the lamb, season and spread with the prepared pesto. Transfer to a foil-lined metal rack in a roasting tin and cook according to your preference. Halfway through cooking cover the lamb with foil.
Transfer the lamb to a warm plate; lightly cover with foil and leave to rest for 5-10 minutes.
Slice and serve with roasted or sautéed new potatoes, any remaining pan juices and a green salad.
Tips: 
This recipe contains nuts. Transfer any remaining pesto into a small jar, cover and refrigerate for up to 1 week. Alternatively, why not spread the pesto over a whole or half leg of lamb? Half way during cooking, simply brush the pesto mixture over the joint and continue to roast to your preference.
Images courtesy of AHDB. www.simplybeefandlamb.co.uk
Print View
Download PDF