Mince and sweet potato frittata
40 minute supper or light lunch, with beef mince, sweet potato and peppers pan cooked with beaten eggs. Will feed up to 6 with a fresh salad accompaniment.
Ingredients
450g/1lb lean beef mince
30ml/2tbsp olive oil
225g/8oz sweet, new or salad potatoes, peeled, thinly sliced, rinsed and dried
2 medium leeks, finely sliced
1 small yellow pepper, deseeded and finely diced
5-10ml/1-2tsp cayenne pepper
Salt and freshly milled black pepper
30ml/2tbsp freshly chopped chives or chervil
4 large eggs, beaten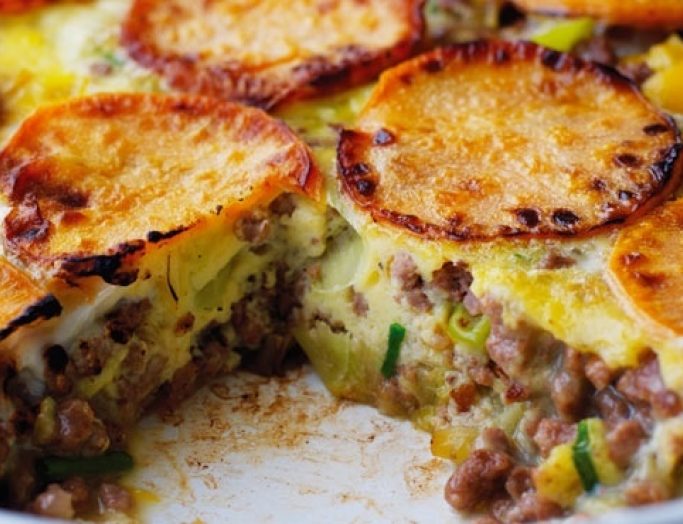 Method
Heat the oil in a large shallow, non-stick frying pan under a moderate heat
Reduce the heat and cook for a further 5 minutes until tender, turning occasionally. Remove and drain on absorbent kitchen paper. Remove any excess oil from the pan.
Heat the same pan until hot and cook the mince, leeks and yellow pepper for 5-7 minutes until brown. Add the cayenne pepper, seasoning and chives or chervil. Stir and cook for a further 5 minutes.
Carefully pour over the beaten egg evenly and finish with the sliced potatoes, reduce the heat and cook for a further 5 minutes until the egg is set.
Transfer the pan to a preheated grill (check that your handles are heatproof) and cook until lightly brown and the egg is set in the middle.
Cut into wedges and serve with a tomato and onion salad.
Tips: 
If preferred replace with potatoes of your choice.
Images courtesy of AHDB. www.simplybeefandlamb.co.uk
Print View
Download PDF